Brass Toff
Brass Toff is an instrument Repair, Renovation and Sales business based in Warrington, established in 1983. It continues to perform as one of the leading Brass Repair Specialist companies in the UK, with some of the most competitive prices available.
It is owned by the well-known Conductor Paul Andrews, who has over 35 years' experience, having learned the trade under the professional guidance at Thomas Reynolds for 5 years. With Paul's experience through Playing, Conducting, Adjudicating and Brass Toff, he has one of the most established and varied companies in the country, with vast musical knowledge.
Quality Craftsmanship
As a result of Pauls quality craftsmanship, Brass Toffs reputation continues to excel, resulting in an extensive client base across the UK and Channel Islands. This has been built up over many years, through providing an efficient & personal service and through this trust, we continue to maintain and repair the musical instruments for many students and professional musicians alike.
It is for these reasons Elijah Yue, owner of Elliott Brass Ltd has made Brass Toff the exclusive UK provider of the Elliott Range of instruments.
Competitive Prices
As well as our private customers, we look after the instruments for many youth music services, educations and brass band due to our educational discount.
"As my hobby as a musician has run parallel to my work, I have the good fortune to have many of my clients both as friends and colleagues. How many people get to have a job like that? Here at Brass Toff we work by a motto I was taught during my time at Reynolds; "treat every instrument like it is your own" as we understand the trust needed by our customers to leave their very expensive instruments in our hands."

Paul Andrews – director and lead repairer of Brass Toff
We Provide a full range of services, catering for the needs of every brass player
· Free no obligation quotes
· Brass Repair
· Silver-Plating
· Valve Lapping and Refitting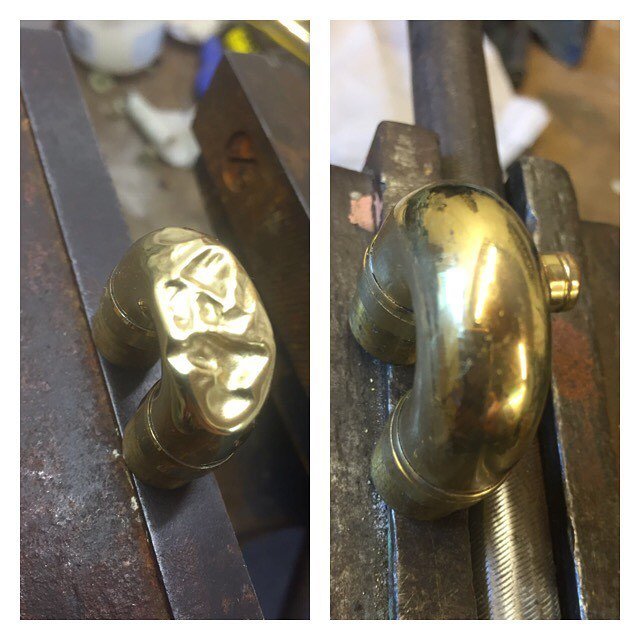 · Slide Work
· Dent Removal
· Customizing
· Sales
· Service
· Professional Cleaning
---
How Brass Toff Began
Having left school in 1978 I was fortunate to enter into a job that was to consume most of my life, be it at work or play. The art of repairing brass instruments has fascinated me since going to Thomas Reynolds Senior and Sons with my father as a young boy.

Having now just completed my 32nd year in the repairing business it still amazes me today that the boredom factor hasn't yet kicked in.

Under excellent guidance I learned my trade over a 5-year apprenticeship. In 1983 Thomas Reynolds ceased trading and having just become a fully-fledged repairer, I made the decision to enter the world of self-employment. It proved to be the right one as I am still here today to tell the tale.